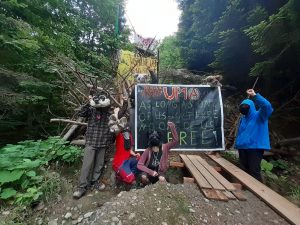 Our friend Ella has been incarcerated for more than 7 Months and they received a sentence of 2 years and 3 months prison. Just because they were occupying a tree during the eviction of the dannenröder forest in germany last automn.
They were accused of hurting a police officer with their foot, even if the films of the action show nothing like that. But the special force officers lied (they remained anonymous in court and were masked up) and the judge prefered to listen to what they said instead of seeing the evidence of the videos.
Germany is losing the separation between the three powers, the judges just obey to what the executive and the legislative tell them.
Ella is in prison as an example, to scare climate activists from taking actions in the futur. They are in there for all of us who are free today.
So let's write letters to them.
JVA Preungesheim
JVA 3 z.H. UWP Eins
Obere Kreuzäckerstraße 4
60435 Frankfurt am Main
Germany
More infos here